Jimmy Hall wins the 2023 Blues Blast Music Award for Blues Video of the Year! Thank you for voting!
LEGENDARY WET WILLIE VOCALIST
AND HARMONICA PLAYER JIMMY HALL
ANNOUNCES NEW ALBUM, "READY NOW"
KTBA RECORDS TO RELEASE ON SEPTEMBER 16, 2022
PRE-ORDER THE ALBUM HERE
ALL-STAR LINE-UP FEATURING JOE BONAMASSA, JOSH SMITH,
REESE WYNANS, MICHAEL RHODES, GREG MORROW,
WARREN HAYNES, AND JARED JAMES NICHOLS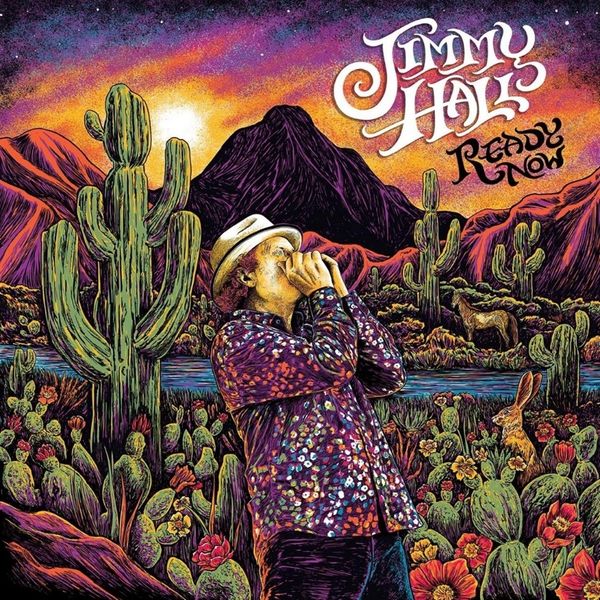 Guitar.com
JIMMY HALL'S FIRST SOLO ALBUM IN 15 YEARS TAPS JOE BONAMASSA, WARREN HAYNES AND MORE
Jimmy Hall is 'Ready Now,' with help from Joe Bonamassa and friends (Review)
Alabama Life & Culture reviews Jimmy's new release. Read the review HERE!
Jimmy Hall Appears on Guthrie Trapp's New Release "Life After Dark"
Jimmy sits in with long time friend and occasional band mate Guthrie Trapp. "Life After Dark" releases on March 9, 2018. www.guthrietrapp.com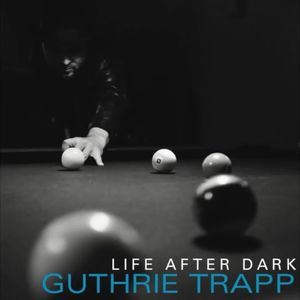 Colorado Blues Society Votes Jimmy Hall as Favorite National Performer and Favorite Live Moment!
Jimmy is no stranger to Colorado and there is a reason, his fans love him there! On December 3, 2017 the Colorado Blues Society awarded Jimmy with it's Member's Choice "Creighton Holley" Awards  for Favorite National Performer and for Favorite Live Moment as a result of voting by the CBS members.
The favorite Live Moments was the All star cast performing "Keep On Smilin'" at the John Catt Celebration of Life event on June 15t, 2017 in Denver Colorado. Jimmy was joined by the band My Blue Sky, Austin Young, Brent Miller, Daniel Scheblen, Joe Bonamassa, Kara Grainger, Kate Moss, Resse Wynans, Sadie Johnson, Scotty Rivera, Steve Meriner, Tommy Castro, Tudie Calderon, and the spirit of John Catt.
| | |
| --- | --- |
| | |
Alabama Entertainment: October 26, 2017
Alabama's Greatest Southern Rocker Looks Back
By Matt Wake
"In addition to elastic vocals and earthy songwriting, Hall is known for his hot harmonica and saxophone work. Over the course of our 45 minute interview, he details "Keep On Smilin'" and recalls: his friendship with Capricorn Records label-mates the Allman Brothers Band; why 2016 Alabama Music Hall of Fame inductees Wet Willie left their home state in the early-70s; the Allmans tour that partially inspired Cameron Crowe's film "Almost Famous"; attending Gregg Allman's funeral; and Hall's ongoing work with guitar god Jeff Beck and country icon Hank Williams Jr."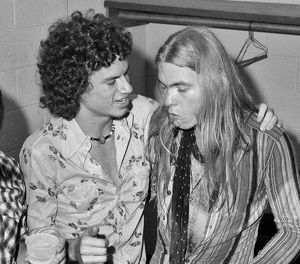 Photo of Jimmy Hall, left, and Gregg Allman courtesy sidneysmithphotos.com
Glide Magazine: August 23, 2016
Jeff Beck Remains Six String Bad Ass on 50th Anniversary Tour (Show Review)
By L. Paul Mann

Excerpt: " Beck then changed the mood again bringing out his longtime collaborator Jimmy Hall, the former lead singer and harmonica player for the Southern rock band Wet Willie. Hall has played with Beck as far back as 1985, when he was nominated for a Grammy his work on Beck's album Flash. The band with Hall on the microphone launched into two soul drenched blues covers of  "Morning Dew" and "A Change Is Gonna Come," by Bonnie Dobson and Sam Cooke respectively. On the latter, Hall was able to hit some ear shattering and starling high notes that wowed the crowd and repeatedly brought them to their feet."

Best Classic Bands: August 12, 2016
Jeff Beck Live: Around the World in 80 Licks
by Noe Gold
Excerpt: "Then it was off to the races, with Beck leading his ensemble through a rapid-fire half-dozen Yardbirds and Jeff Beck Group rockers. "Over Under Sideways Down" had the same youthful energy as it did when Beck and the lads were humping their equipment around England in a van with "Yardbirds" painted on the side of it. And "Morning Dew" was handled deftly by Jimmy Hall, standing in for Stewart. The Blow By Blow-era "Freeway Jam" and the heart-rending instrumental "Because We've Ended As Lovers" set us up for Beck's first special guest, Jan Hammer."
 The Oakland Press, July 30, 2016
Review: Jeff Beck and Buddy Guy - Masters At Work at Meadow Brook
By Gary Graff

Excerpt: "The show also featured plenty of references to Beck's celebrated past, save for his Jeff Beck Group days of the late 60s. Assisted by singer-harmonica player Jimmy Hall, Beck -- sporting a sleeveless black vest, white neck scarf, shades and glittery white wristbands -- ripped through his R&B roots with renditions of Bonnie Dobson's "Morning Dew," Sam Cook's "A Change Is Gonna Come," Hambone Willie Newberry's "Rollin' and Tumblin'," Muddy Waters' "Little Brown Bird" and Stevie Wonder's "Superstition."

The Morning Call, July 25, 2016
REVIEW: With different styles, Jeff Beck, Buddy Guy give fans great guitar at Sands Bethlehem Event Center
by John J. Moser

Excerpt: "Beck's best were his cover of Bonnie Dobson's "Morning Dew" with vocalist Jimmy Hall, which brought Beck back to his seminal  blues rock. (Hall's vocals also were very good on a cover of Sam Cooke's "A Change is Gonna Come," and Beck's sound again not just speedy, but big and full.) "

Kai Turner of Strictly Blues Interviews Jimmy Hall
Kai Turner catches up with Jimmy and discusses the current tour with Jeff Beck and more. Have a listen!

Quotes:

Gregg Allman:
"Jimmy Hall is the hardest man to follow on stage that I ever worked with".
"I love that man... if his singing won't kill you he will get you with his sax!"
Cleve Baker, host of "Confessing the Blues" - internet blues radio program broadcast, August 2017:
"Music legend Jimmy Hall, stretching the known boundaries of blues music. His craft, singing, playing the sax and blues harp is well-seasoned and honed to a fine edge. "
"He's a bona fide American institution. He's lived a million tales in his career, and there's another million told about him. His distinctive and classic R&B voice was custom-made for a steamy roadhouse. Gloriously greasy and perfectly raspy, he's a stellar sax man and a master of the blues harp who plays with passion oozing from every pore. His stage performances are nothing short of spine-tingling…Take in a show. You'll be blow away. I guarantee!"